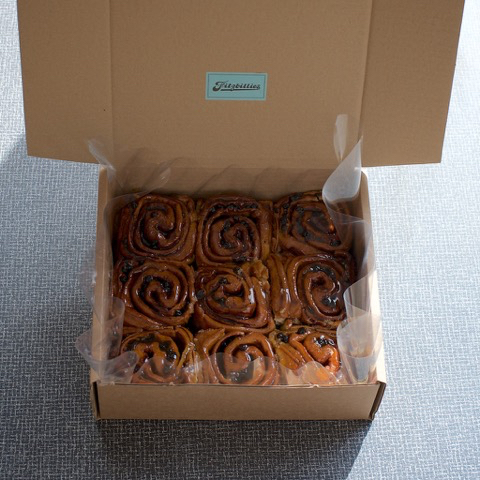 Chelsea Buns
We send our famously sticky buns all over the UK
Choose from a pack of 4 or 9 buns.
THE PRICE SHOWN ABOVE INCLUDES DELIVERY. Please see full product description for delivery details.
We are sorry but we are no longer able to send buns outside the UK.
Delivery Information
We post buns on Wednesdays.
Orders placed before 4pm on Tuesday will be posted on Wednesday morning. If you would like your buns posted on a different date, for instance to arrive for a birthday or celebration please note the date in the delivery instructions box at the checkout.
We can only send our Chelsea Buns within the UK. We use Royal Mail first class postage, which has a service standard of 1-2 days, it is not a tracked service, so we can't guarantee delivery times.
Delivery costs are included in the final price shown when you add the item to you cart. If you order multiple packs to be delivered to the same address each pack has a postage charge as each pack is sent separately. Prices are as follows:
UK: £7.20 for 4 buns, £9.70 for 9 buns
For orders to be sent to different address you need to place separate orders.
For larger numbers of buns, or other questions or requests please email orders@fitzbillies.com or call 0749 448 1177
Storage information
Chelsea buns should be stored in an air tight container, and eaten within 3 days of arrival. They can be 'revived' by microwaving for 30 seconds.
Allergen information
Our Chelsea buns contain wheat, egg, milk, soya and are prepared in a bakery where nuts are used. Suitable for vegetarians.